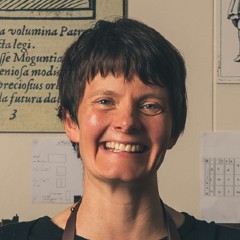 Prof. Helen Smith
York University
BIOGRAPHY
A graduate of Glasgow and York, Helen taught at St Andrews and Hertfordshire before returning to York in 2004. Her wide-ranging interests embrace Renaissance poetry, drama, and prose; history of the book; feminist literary history and theory; religion and conversion; the history of reading; and materiality.

Helen has published more than thirty articles and chapters on topics ranging from the printing of Shakespeare's early plays to the links between reading and digestion, the cultural and domestic presence of animals, the imaginative connections between physical illness and spiritual trial, and the many uses of early modern paper.

Her first monograph, Grossly Material Things: Women and Book Production in Early Modern England (Oxford University Press, 2012) was awarded the Roland H. Bainton Literature Prize and the DeLong Book History Prize. Helen is co-editor of Renaissance Paratexts (Cambridge University Press, 2011; paperback 2014), The Oxford Handbook of the Bible in Early Modern England, c. 1530-1700 (Oxford University Press, 2015; awarded the Roland H. Bainton Reference Prize), and Conversions: Gender and Religious Change in Early Modern Europe (Manchester University Press, 2017).
READ MORE
All courses by Prof. Helen Smith